EMAIL MARKETING
& DIGITAL MARKETING
TO FIT ALL BUSINESS SIZES AND BUDGETS.
EMAIL MARKETING & DIGITAL MARKETING
PLANS AND PRICING
Understanding your business and how our email marketing and digital marketing strategies can help you is one of the most important aspects of our job. For instance, a restaurant's needs will be different than an attorney's needs. While we have simplified our plans as much as possible so you can visualize what we do, there really is so much more involved in this process. The setup fee allows us to custom design an email marketing plan for your business, and then take the initial steps to make the plan functional. First, we must discuss your business with you to determine your needs and goals. From there we will make a more in depth plan for you based on the information given to us. Then, we will put the piece into place and begin implementing that plan.
Which plan is right for you?
While we do offer a month-to-month payment plan, please keep in mind, most businesses will not see any significant returns from email marketing for at least 90-180 days. Therefore, if your budget allows, we highly recommend the yearly plan, so you can really take advantage of the full benefits of email marketing. If you are apprehensive, or just don't have the cash up front, we do understand and are more than will to help you on a month-to-month basis.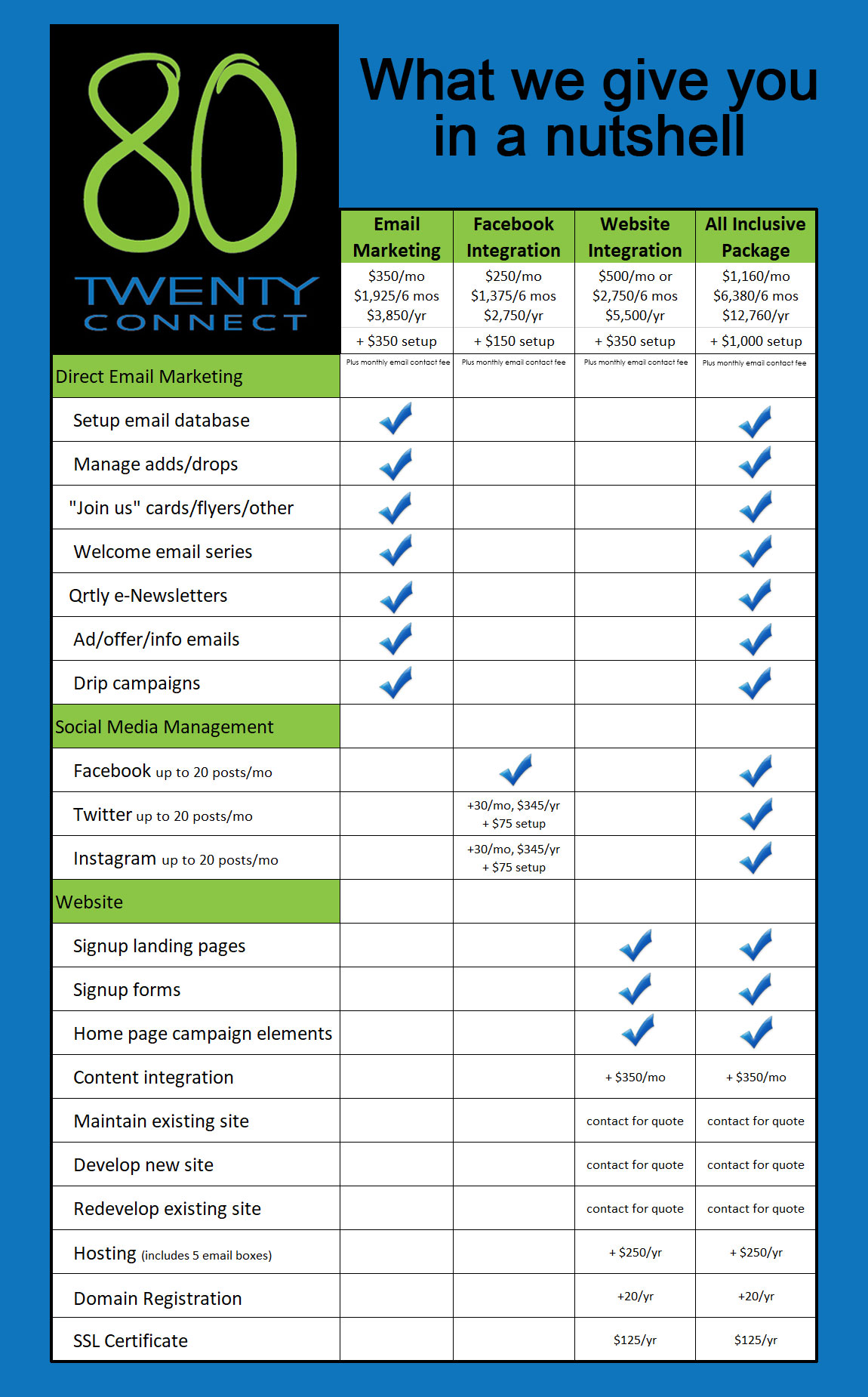 *Monthly email contact fees are additional based on the email program used. Call or email for info.
What's not included?
Please know, these plan fees do not include extra costs which may need to be incurred, such as email lists, collateral, or any third party costs. We will not start any project which would include extra costs without first discussing it with you. There will be no hidden fees added to your balance. Everything will be clearly explained to you and only implemented upon your approval. Call or email for more information.
Email platforms we prefer: Constant Contact and ActiveCampaign, but if you are currently using another program, such as HubSpot or Mailchimp, don't worry, we do work with those as well.
We are experts in the marketing industry!
With 80Twenty Connect in your corner, you will have a team behind you with over 30+ years of marketing experience, including an award-winning copywriter and graphic designer, email experts, and SEO and social media experts.
Have Questions?
Ask us how we can help you reach your potential.
By submitting this form, you are consenting to receive marketing emails from: BackBurner Marketing, 3015 Shell Lane, Fort Denaud, FL, 33935, http://www.backburnermarketing.com. You can revoke your consent to receive emails at any time by using the SafeUnsubscribe® link, found at the bottom of every email. Emails are serviced by Constant Contact